Welcome to the Scottish Schools Pipe Band Championships
We're on the final countdown to The 2019 Scottish Schools Pipe Band Championships!  The event takes place on Sunday 10th March at Inveralmond Community High School in Livingston.
Don't forget you can still nominate a band for The Eilidh MacLeod Endeavour Award. All you have to do is fill out this form to tell us why your chosen band should win. This annual award recognises a band which demonstrates endeavour, team spirit, commitment and camaraderie. Nominations close on 5th March.
Playing Times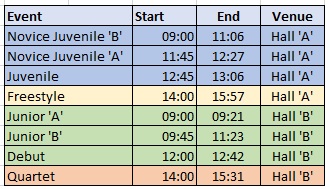 Entries and running order for 2019 can be found under
The Scottish Schools Pipes and Drums Trust, is the charity that organises the Championships. The Trust offers cash grants, guidance and bagpipe loans to help introduce piping and drumming tuition to state schools.  If you would like to know more please contact us through the SSPDT website.