Grateful thanks go to our 2024 sponsors for their generous support.
Sponsors of the Freestyle competition. 
The Gordon Duncan Memorial Trust was established in June 2007 in memory of the piper, folk musician and composer, Gordon Duncan, who died in December 2005, aged 41. His influence can be heard within an entire generation of younger musicians across Scotland and well beyond. The Gordon Duncan Memorial Trust aims to raise funds for the promotion of piping and other forms of traditional music in Scotland, with a particular emphasis on young musicians.  Registered Scottish Charity. Number SC038339


---
Sponsors of the Junior C competition. 
Quality, Pride & Passion = Wallace Bagpipes!  The very best in traditional bagpipe manufacturing products combined with cutting edge performance made 100% in Scotland.  We pride ourselves on keeping up with the modern demands of pipers using the finest African Blackwood. Our wood is seasoned, matured and fully prepared prior to machining under strict ISO9001 quality like systems and procedures.  Our production procedures are 95% hand crafted traditional methods for quality with 5% CNC machining for consistency giving you "The Best of Both Worlds".  Our unique boring technique produces a level of finish that is of the highest standards with concentricity and straightness guaranteed.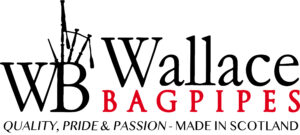 ---
Many thanks also go to East Ayrshire Council for hosting the 2024 Scottish Schools Pipe Band Championships, and to the William Grant Foundation for their continued support.