The Eilidh MacLeod Endeavour Award is your chance to celebrate a band that achieves much more than just a competitive edge.
The annual award is given to a band that demonstrates one or more of the following attributes: perseverance and resilience in the face of challenges; community contribution; enthusiasm and camaraderie; innovation; and/ or efforts to include everyone regardless of circumstances.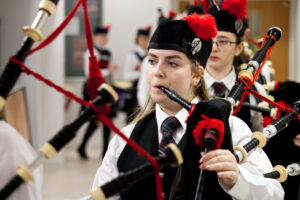 A £500 cash prize will be awarded to the winning band.
The award is named in memory of Eilidh MacLeod, the young piper from the Sgoil Lionacleit Pipe Band who tragically lost her life in the Manchester Arena terrorist attack in 2017.  Eilidh exemplified endeavour, team spirit, commitment and camaraderie and we are proud to honour her through the Award.
Community Contribution
For example, performances at community events, pupils' participation in community bands and ensembles, participation in community achievement awards, voluntary activities.
Inclusion and Diversity
For example, positive efforts to  unite young people from diverse backgrounds, ethnicities and religions; inclusion of pupils with differing abilities including those with special needs; removal of barriers such as financial hardship or transport issues.
Enthusiasm and Camaraderie 
For example, evidence of individual band members' support and friendship for one another.
Innovation 
For example, new ways of doing things whether it be in terms of playing the pipes and drums (e.g. in association with other instruments, storytelling, poetry, acting, dancing), raising funds, teaching and learning.
Perseverance and resilience
For example, activities that enable a band to flourish despite adverse circumstances such as illness or absence of instructors, or limited funding sources; or evidence of individual band members who persevere despite challenging circumstances.